INDIA AUTO COMPONENT IMPORT FROM CHINA CLIMBS TO 21
India's highest ever 21% of auto components import was from China in FY 2013-2014 valuing to the tune of $ 2.6 billion, Automotive Component Manufacturers Association of India (ACMA) informed Thursday. Previous fiscal year Chinese auto parts import stood at 18% of the total.
The overall auto component import was calculated at $ 12.8 billion (Rs 77,160 cr) in FY13-14 from $13.7 billion) in FY 2012-13, recording a growth of 3.6%.
"Availability of cheap infrastructure support such as cheap power, hidden subsidies and economy of scale puts China in an advantageous position be competitive in the exports market," says Abdul Majeed, Partner Automotive Practice at PwC.
Germany holds the second spot by commanding 15% of the total Indian auto part Import, followed by Japan, South Korea and Thailand. Indian auto component industry had a trade deficit of around $2 billion as its total exports stood at $ 10.2 billion in FY14 against the import of $12.8 billion. Asia and Europe contributed 57 percent and 34 percent to the total imports respectively.
"Import from China used to be 10-12 % but we have seen it increasing steadily which is a worrying trend and we are trying in multiple ways to counter this. Initiative such as anti-dumping duty is going to help," said Harish Lakshman, President, Automotive Component Manufacturers Association of India.
Of late Indian manufacturers are applying for anti-dumping duty on imports of auto components from China. Recently, leading forging company Bharat Forge file a petition seeking anti-dumping duty on Steering Knuckles and axle beams.
India exported auto components worth $ 10.2 billion in FY13-14 compared to $.9.7 billion in the previous fiscal translating into a growth of 16.7%. Europe accounted for 38 percent of exports followed by Asia at 25 percent and North America at 21 percent.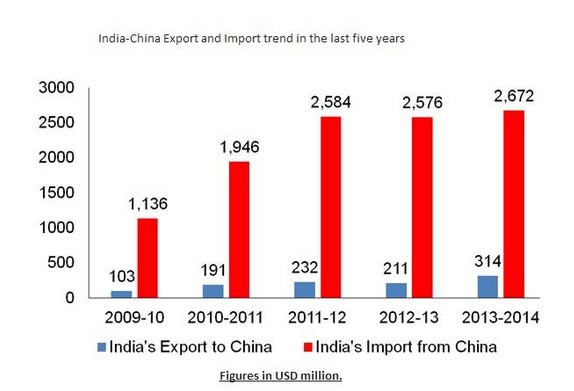 Exports to Europe increased by 14.5 percent over the previous fiscal, while exports to Latin America and Asia registered a growth of 16.5 percent and 5.4 percent respectively. The key export items include engine parts, transmission parts, brake system & components, body parts, exhaust systems, turbochargers etc.
Indian auto component industry also recorded a negative growth in the total revenue for the first times since the recession of 2008-09. The turnover of the auto component industry stood at $35.13 billion ( Rs. 2,11,765 cr) for the period April 2013 to March 2014 compared to $39.7 in the same period a year ago, registering a decline of 2% .
Below is the trend of change in share (%) of imports from china in the last five years:
"The last fiscal has been one of the most challenging for the automotive industry in India; flagging vehicle sales, high capital costs, high interest rates, currency fluctuations and slowing down of investment in manufacturing, have adversely impacted the growth of the auto component industry." On average around 30% of the total capacity remained unutilised while the investments continue to contract. In FY13-14, the total investment slipped to $700 mn compared to $1.2 billion in the previous fiscal years. The investment in FY 11-12 stood at $1.5 billion.
ACMA projected the auto component industry to grow by 4-6% in this fiscal year. "We have seen positive trend in the passenger car sales and two-wheeler sector continue grow. While monsoon is improving we hope the auto component industry will grow by at least 4-6% in the current fiscal 2014-15," said Ramesh Suri, Vice President, ACMA.